How to use a shaving brush for the perfect lather?
Here are the 3 steps to follow!
Step 1: Preparation of the shaving brush and the skin
Wet and wring out your shaving brush just before loading.
Wring it out, squeezing the tuft in your hand, without pushing it too hard, so that it stays a little damp inside!
Moisten your face, unless you have already filed for a pre-shave.
2nd step: loading the shaving brush
Load the shaving brush with cream by making circular movements on the soap (in a bowl or a shaving mug) for 20 to 30 seconds to remove enough soap and thus form a beautiful foam on the tuft of badger. If you see that the foam remains a bit too hard, add a few drops of lukewarm water to your shaving brush. But be careful, never too much water, it should never be completely soaked, just moderately wet!
3ème Étape : Shaving brush
"phase of applying the foam to your face".
Spread the mousse on your face in two steps:
First of all circular gestures to continue to mount the foam on your face (yes, part is done in the bowl or mug, and the other on the face).
Once the foam is well assembled, this time make small more straight movements such as small strokes of the brushes, to flatten the surface of the shaving foam, because the foam should be neither too airy nor too thick.
If you want to do several shaving passes, keep your shaving brush placed vertically while waiting for the next pass.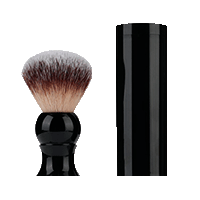 It's okay, now you're ready for a great shave!
You can now proudly wear your new, healthy and mellow fleece.
We hope these steps will help you take care of your beard and skin.