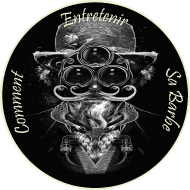 You struggle with a dry, itchy beard, scaly skin under the beard, or the itchy feeling are usually due to ineffective grooming routine you may have currently.
Here are some steps to fix it!
1st step
Make sure to wash your beard with a soap or beard shampoo. A good beard soap is specially formulated to remove dead skin cells while also retaining certain natural oils in the skin and hair. However, regular shampoos and soaps can be very harsh on the hair and skin on your face.
due to the high salt / sulphate content, which is found in most of them. Gently wet your beard. Then bring your soap or shampoo
then lather it in your hands. Massage your hair deeply to the root to touch the skin and exfoliate dead cells. Then rinse your beard with lukewarm water. Wash your beard every other day or twice
per week, that's good !
We want to keep natural oils.
2nd step
Dry your beard well ! Another reason for skin irritation is that it stays wet. In these humid and warm conditions, bacteria can start to grow and even cause fungal problems. You absolutely want to prevent it from reaching this stage, as it will be very difficult to deal with it properly.
topical creams the skin under a full beard. The last thing you want to do is trim it after all that hard work growing it l Finally dry your beard by patting it gently with a clean towel. You can, however, use a hair dryer in the cool or warm position, never hot. It will also allow you to style your beard lightly and help keep the hair tidy.
3rd step
Always moisturize the skin after washing and
drying with a good beard oil or balm.
Oils and balms basically do the same thing, but the balm provides beard hold for the style you want. However, make sure to reach the skin
below when applying because beard oils and balms are mainly beneficial for the beard. Well hydrated skin will continue to nourish the hairs. Finally, comb or brush your beard.
You can now proudly wear your new, healthy and mellow fleece.
We hope these steps will help you take care of your beard and skin.